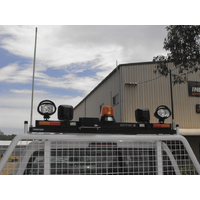 Usually mine site specify the mine flag must be positioned 3 metres off the ground
We often get asked what size mine flag do I need for my vehicle?
Whilst it is always good to confirm with the site you are visiting, most mine sites specify that the mine flag has to be 3 metres from ground level.
This is why we offer 3 main sizes off the shelf and can custom make buggy whips to suit your exact site or vehicle requirements.
Generally 1.2 metre mining flags are used on trucks and other high machinery while your standard utes like Hilux's, Navara's and Rangers would use the 1.8m or 2.4m depending on whether they attach the buggy whips to their bull bar or their trade racks on the ute.
Industroquip have large stocks of mine vehicle accessories like buggy whips, wheel nut indicators, fire extinguishers, first aid kits, spill kits, radios, lighting, reflective tapes and also manufacture UHF Call Signs to your site specifications and fleet numbers.
Call the Industroquip team on 1300 554 192 to discuss your mining vehicle needs now or browse our huge range on this website.