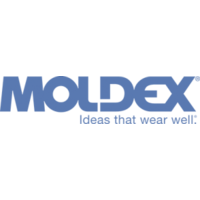 In the world of personal protective equipment, Moldex stands for innovative design, comfort, and value. Moldex products are created with the comfort and safety of the end-user in mind. Not only do our products protect workers, they are more comfortable, last longer, and resist daily wear and tear to cut waste and promote cost savings.
With over 70 patents, Moldex innovative respiratory and hearing solutions are designed to increase compliance by maximizing worker comfort and convenience, while at the same time reducing overall costs through greater durability and extended product life spans.
The quality construction and industry-leading design of our products allow workers to help feel confident in their safety equipment. The Moldex line of respiratory masks and hearing protection is built on our focus to help keep workers safe and healthy.
Industroquip are one of Australia's few authorised distributors of Moldex masks and hearing protection, with huge stocks ready for fast shipping Australia we can provide you with great service whether you are located in Perth, Melbourne or Mackay or anywhere in between.
For all your Moldex respirators, ear plugs and ear muffs contact the Industroquip team today for fast and friendly service everytime.
Call 1300 554 192 or email sales@industroquip.com.au now