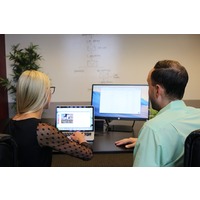 WHS consultants are professionals that are specially trained on the matter of health and safety in the workplace. With their experience and expertise, they can provide expert advice on how companies can improve the overall health and safety in the workplace.
Here at Industroquip we work with hundreds of Workplace Safety Consultants right across Australia from smaller owner operator safety consultants that work in their clients facilities helping them with their WHS obligations to larger national and international consulting companies that operate in many cities around Australia and beyond.
How do we help WHS Consultants?
With our large range of Safety Signs, Safety Products and the ability to custom manufacture safety solutions to solve your clients unique safety challenges in our own manufcaturing facility the team at Industroquip work with many WHS consultants providing joint site visits to work out a solution, design, engineer and install a huge range of safety equipment on behalf of WHS Consultants.
We also offer dropshipping of our large range of Safety Signs direct to the clients of WHS Consultants, this is all done with our Guaranteed Next Day Despatch, Blind Shipping and allowing very generous margins back to the safety consultants.