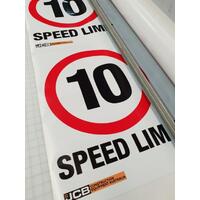 Best practice traffic control & parking do more than keep everyone safe.
As well as fulfilling compliance and safety obligations, it predicts needs and provides easy navigation.
Whether large and complex or small and simple, best practice car park layouts and signage ensures a smooth and safe transition from driver to pedestrian and back again.
Industroquip Safety & Signage is Australia's leading manufacturer of Traffic & Parking Signage & Accessories, Industroquip's range of workplace traffic management safety signs and products are in stock ready for fast shipping Australia wide, we can also customise all your workplace traffic management signs to your exact requirements, other workplace traffic management products we supply include gates, forklift barriers, delivery driver safety zones and much more
Workplace Traffic Management Plans are available through Benchmark OHS, Read Consulting Group or you can buy a template directly from the Safety Culture Docs website.