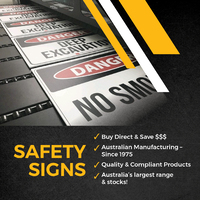 Yellow Hazard Warning Signs supplier in Australia to warn of hazards that are not likely to be life threatening. The hazard symbol should be black on a yellow background and a triangle should be depicted around the hazard symbol.
Some of the common yellow hazard signs in Australian workplaces are Forklifts in Use, Warning Trucks Crossing, Warning Pinch Point Signs and much more.
Yellow Hazard Warning Signs text is printed in black text on a yellow background, for more information on Warning Signs visit the SafeWork website or call one of our Safety Sign Experts on 1300 554 192.
Industroquip is Australia's leading manufacturer of Safety Signs and Products providing products like our Yellow Hazard Warning Signs and more direct to the end user and also sold through a network of authorised distributors.
Yes, we can add your logo onto Safety Signs!