haziSAFE®
Our UN Certified haziSAFE® bags provide a very efficient and cost effective containment solution to demolition and decontamination companies. The hazi bags provide a safer and smarter way to transport hazardous waste.
UN Certified for Asbestos Removal
SWL up to 1250kg
Safe and efficient option for hazardous waste removal
1m3 Size, 1.5m3 & 3m3 with further sizes coming soon!
Ideal for containing hazardous or harmful waste including asbestos waste, methamphetamine decontamination and contaminated soils. UN Certified for the containment & transportation of asbestos waste.
---
Popular Items
---
Expert Advice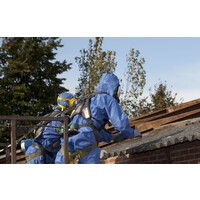 How to dispose of Asbestos Waste in NSW
You can only dispose of asbestos waste at a licensed landfill that manages asbestos away from the community.
Read Blog